Lindberg Video Clips
Video Diary Archive
Christian Lindberg Conductor
A description of Christian Lindberg Conductor as of August 2017
C.L. News And Tip no 1 for Trombonists, Conductors and Soloists
Christian Lindberg Video Diary February 2017
Lindberg conducts Arctic Philharmonic and Norrköpings Symphony, and composes Double Bass Concerto for Beethoven Orchester Bonn
video diary jan 2017
bla
Christian Lindberg Video Diary Autumn 2016 and Trombone Tip no 15
Christian Lindberg conducts Prague Radio Symphony Orchestra, Düsseldorfer Symphoniker, Arctic Philharmonic Israel NK Orchestra and more
Christian Lindberg Video Diary Spring 216 and Trombone Tip no 14
Christian Lindberg conducts Liverpool Philharmonic, Bikent Symphony, Stockholm Philharmonic Orchestra, Lithuanian National Orchestra and St John Smith Square Orchestra. Receives "International Classical Music Award 2016" Recital in Verona, and Black Hawk Eagle with Roland Pöntinen
Christian Lindberg Trombone Tip no 13 and Video Diary Autumn 2015
How to learn flight of the bumblebee on trombone, Christian Lindberg conducts Royal Flemish Philharmonic, Nürnberger Symphoniker, Norwegian Arctic Philharmonic, Royal Northern Sinfonia wirh Karen Cargill, Västerås Sinfonietta with Jonas Lindeborg, Taipei Symphony Orchestra with Öystein Baadsvik and Roland Pöntinen, Högberg Trombone Concerto with Nils Landgren.
Christian Lindberg Trombone Tip no 12 and Video Diary Spring 2015
Christian Lindberg Trombone Tip no 11 and Video Diary Winter 2015
Christian Lindberg conducting Düsseldorfer Symphoniker, Arctic Philharmonic, Norrköping Symphony Orchestra, Israel Netanya Chamber Orchestra, Linköping Symphony Orchestra, Jenaer Philharmon
Trombone Tip no 10 and Video Diary Late Autumn 2014
Christian Lindberg conducting Ulster Orchestra, Zürich Opera Orchestra, Arcitc Philharmonic Orchestra, Lithuanian National Philharmonic and Virtuosi Symphony Orchestra, Recife
Trombone Tip no 9 and Video Diary Early Autumn 2014
Lindberg conducts RTÉ National Orchestra of Ireland, Norwegian Arctic Philharmonic Orchestra at Beethovenfest, Pettersson 13 with Norrköping Symphony Orchestra, Tangophoria, and Valudden Triathlon, Trombone tip no 9
Christian Lindberg Flashes from Spring 2014
Lindberg conducts Royal Liverpool Philharmonic, Royal Flemish Philharmonic, Sönderjylland Symphony Orchestra, Nordic Chamber Orchestra and much more!
Christian Lindberg Trombone Tip no 8 and Video Diary Late Autumn 2013
Stunning reviews for Lindberg´s Tchaikovsky 5, Lindberg conducts Beethoven, Sibelius and Lindberg in Hong Kong, Lindberg conducts Stravinsky, de Falla and Lindberg in Mexico, Lindberg/Lundberg/Pöninen plays Piazzolla, Lindberg conducts Pettersson in Norrköping
Christian Lindberg Video Diary Early Autumn 2013
Lindberg conducts Beethoven orchester, Bonn, in Surgut Siberia and Linköping Wind Ensemble
Christian Lindberg Trombone tip no 6 and Video Diary Late Spring 2013
Lindberg conducts Sibelius 2 in Melbourne, PAC Orchestra in Japan, Düsseldorfer Symphoniker, Nürnberger Symphoniker, Arctic Philharmonic Orchestra, Västerås Sinfonietta, Royal Flemish Philharmonic, plays Berio with Zubin Mehta and holding his first conducting masterclass
Christian Lindberg Video Diary Jan-Feb 2013
Content in this diary: Christian Lindberg Trombone tip no 5 and Christian Lindberg conducting Arctic Philharmonic Orchestra in Wagner Meistersinger, Sibelius 1st symphony and Lindberg´s Panda in Love, Lindberg conducts Lapland Chamber Orchestra in Xenakis, Mozart, Sandström and Lindberg, Lindberg conducts Irish National Orchestra in music by Lindberg and Sandström
Nov-Dec 2012
Content in this diary: Lindberg conducts Sibelius 5 with Orquesta Nacional de Brazil. conducts and records Pettersson Symphony no 9, conducts Prokoview Classical Symphony and Mendelssohn "Die Schöne Melusine", Lindberg Ero Arctica and David Trombone Concerto, work in progress: Clarinet Concerto "The Erratic Dreams of Mr Grönstedt. Trombone tip no 4
Sept-Oct 2012
Content: In this diary Lindberg conducts Stuttgart Radio Orchestra in Britten, Lindberg and Ginastera, Ulster Orchestra in Sibelius, Lindberg, Nielsen, Grieg, Mozart and Panufnik, Aarhus Symphony Orchestra in Dvorak, Sandström and Britten, Madrid Radio Orchestra and Spanish Brass, FMKV Bergen orchestra and Gävle Sympony Orchestra
August 2012
Content: Lindberg signs new contract with Arctic Philharmonic Orchestra, conducts Dvorak 9, Tchaikovsky Violin Concerto and Torstein Aagaard-Nilsen Boreas Sings. Valuddenloppet and Crayfish Party
June & July 2012
Content: Lindberg conducts his own 45 minute long dramatic work Dawn at Galamanta in City of London Festival, He also conducts his pieces OF BLOOD SO RED for orchestra and ERO ARCTICA for trombone and strings in Riga. Also, the first chapter in Trombone Tip of the Month and working together with clarinet virtuoso Emil Jonason on his clarinet concerto for Gothenburg Symphony Orchestra.
April & May 2012
Content: Lindberg conducts Royal Stockholm Philharmonic in the world premiére of his own piece Lightning over Kythnos and Tchaikovsky Symphony no 5, Puccini´s La Bohéme throughout Norway, conducts and play as Artist in Residence in Palau de la Musica in Barcelona, conducts and plays his own Kundraan and Bizet Symphony in C with The Swedish Chamber Orchestra
March 2012
Content: Lindberg conducts Nielsen, Sibelius and Grieg with Royal Liverpool Philharmonic Orchestra, plays and conducts Sandström Echoes of Eternity with same orchestra, Lindberg conducts Berwald and Tchaikovsky in Palau de la Musica, Barcelona
February 2012
Content: Lindberg conducts Simon Bolivar Orchestra A in his own Waves of Wollongong for 9 trombones and orchestra, Sibelius Symphony no 2, plays Leopold Mozart Concerto and conducts masterclasses and solo a recital in Caracas.
January 2012
Lindberg works on his Lighning over Kythnos with Stockholm Philharmonic, conducts Tchaikovsky and Ness Tuba Concerto with Arctic Philharmonic Orchestra, plays David and Motorbike Concerto with Royal Stockholm Philharmonic, recording of Allan Petterson Symphony no 6.
December 2011
Content: Lindberg conducts his Viola Concerto Steppenwolf, plays his pieces with Hannover Trombone Unit, Frederic Belli plays Lindberg´s Gipsy Kingdom with Sao Paulo String Quartet Lindberg in Brazil djungle, plays Xenakis Troorkh with Porto Symphony Orchestra and take a swim new years eve in Baltic Sea, Lindberg plays his own Ero Arctica with Virtuoso String Ensemble in Brazil.
November 2011
Content: Lindberg conducts the Premiere of his piece Troorkh in Memoriam commissioned by Hessische Rundfunk, Frankfurt, plays and conduct his own Mandrake in the Corner, Alfvén and Stravisnky in Oslo and wins Clef D´Or in France for Pettersson Symphony no 1 and 2.
October 2011
Lindberg conducts National Orchestra of Brazil in Sibelius 2, Copland Fanfare and his own Kundraan, Odense Symphony Orchestra in Stenhammar Excelsior!, Alfvén Symphony no 4 and his own Viola Concerto Steppenwolf and conducts World Premiere of his Saxophone Concerto Creeping out of the Muddeddd in Bergen plus Bygdin by Geir Jonsson and Ruben Sverre Gjertsen Postheroic Fanfares.
September 2011
Lindberg receives stunning reviews for CD:s of Sandström, Pettersson and Olsen, conducts Bernstein, Lindberg and Gershwin on tour with Remix Orchestra, opens season with Royal Stockholm Philharmonic Orchestra in Eliasson´s Trombone Concerto, and presents his embryos of Lightning over Kythnos commissioned by Stockholm Philharmonic.
August 2011
Content: Lindberg works on his Saxophone Concerto with Ole Henrik Mohn-Pettersson, and his Viola Concerto with Rafael Altino , Crayfish Party at Valudden with Valuddenloppet, beginning work on Clarinet Concerto with Emil Jonason
July 2011
Content: Lindberg´s debut album with Arctic Philharmonic receives stunning reviews, on Holiday in the Arctics, release of the Solo CD A Lindberg Extravaganza, and holiday at Valudden, presenting 2011-12 season.
April - June 2011
Content: Lindberg plays with Takemitsu and Sandström with Concertgebouw Orchestra, on tour to Greece and Cyprus with Musica Vitae and Barbara Hendricks, conducting his Brainrubbish in Lima Peru, his piece Memories from a Cloud in Amsterdam, his Timpani Concerto Octavia in Stockholm, an all Tchaikovsky programme with Iceland Symphony Orchestra, conducting Sibelius 2 and his own Kundraan´s Karma with Phoenix Symphony Orchestra, Sibelius 3rd in Wales and conducting masterclassis in Arizona and Wales. Also conducting Bernstein On the Waterfront and Sibelius 1 with Porto Symphony Orchestra
March 2011
Content: Lindberg conducts Dvorak New World Symphony and Sandström Echoes of Eternity with Teneriffe SymphonyOrchestra, Tchaikovsky 6 with Nurnberger Symfoniker, his own Tuba Concerto Panda in Love, De Falla and Turina on tour with Vasterås Sinfonietta, his own ASA for trombone electric violin, harpsichord and strings
January & February 2011
Content: Lindberg conducts his Kundraan´s Karma, Sibelius, Tchaikovsky, Tarrodi, Haydn and Kosviner at Cape Town Festival, on tour with Arctic Philharmonic and Barbara Hendricks, recording Ole Olsen Symphony no 1, Trombone Concerto Aasgaardsreien, conducting irish National Orchestra in Sibelius 5, Weber Oberon Overture and Echoes of Eternity. Solo Recital in Dublin.
December 2010
Content: Lindberg on tour with Arctic Philharmonic Orchestra in China conducting Tchaikovsky, Olsen, Grieg, Mozart, and Strauss
November 2010
Content: Lindberg on tour in St Petersburg with Arctic Philahrmonic Orchestra, Lindberg receives Opus Artist ofh the Year Award, Lindberg conducting Romeo and Juliet, Lindberg Brainrubbish and Brahms Double Concerto in Rumania
October 2010
Lindberg conducting Francesca da Rimini Grieg Symphonic Dances and Helikon Wasp with Wurtemberg Symphony Orchestra, conducts Royal Flemish Orchestra in Prokoviev, Lindberg and Sibelius, his own Ero Arctica(soloist Håkan Björkman) Nielsen and Grieg with Tromsö Chamber Orchestra. Also conducting masterclasses and recitals in Arctic Trombone Festival
September 2010
World Premiere of Lindberg Memories from a Cloud for Stockholm Chamber Brass, conducting Bernstein, Piazzolla, Ginastera and Stravinsky with Noord Nederland Orkest, conducting Swedish Wind ensemle in music by Gotkovsky, Kien, and Bazevics, Last night of the Proms in Krakow
August 2010
Content: Lindberg conducting Carmen and running Valuddsloppet
July 2010
Lindberg conducting Tchaikovsky, Rota, de Falla and Gershwin in France and performing with Helikon Chamber Trio in Portugal.
June 2010
Lindberg conducting Allan Petterson, Lindberg and Schubert with Gurzenich Orchestra, world Premiére of Lindberg´s Tuba Concerto with Nordic Chamber Orchestra, Lindberg in Beijing with Taipei Chinese Orchestra, recording of Pettersson Symphony no 1 and 2 with Norrköping Symphony Orchestra
May 2010
Content in this video: Lindberg conducts Stenhammar´s huge cantata "Sången" in Stockholm, Sibelius Symphony no 2 with Het Gelders Orkest, Sibelius symphony no 1 with Tiroler Sinfonie Orkester, He also performs his own Helikon Wasp and Sandström´s Echoes of Eternity with Jörgen van Rijen.
April 2010
Content in this video: Christian Lindberg conducts Musica Vitae on tour in Norway, the release of Lindberg´s compostitions Visions and Non Thoughts and Vid Sista Udden for the Swedish Radio Choir on Caprice Records, reivews of his new Dvorak CD, and the first Pettersson CD with Nordic Chamber Orchestra, work in progress: Memories from a Cloud for Brassquintet and Orchestra, Midvinter for Bandoneon, Trombone and Piano and Windows to Autumn for Woodwind Quintet
Other videos
Conductor Trombonist Composer NCO in Asia
High Medium Youtube High Medium Youtube High Medium Youtube High Medium Youtube

If you can not see any of the view alternatives you need faster internet or better software
---
Christian Lindberg early video clips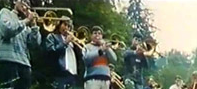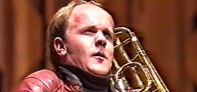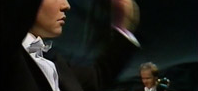 Early Presentation A Motorbike Odyssey Classical Concertos
Win.media Quicktime Win.media Quicktime Win.media Quicktime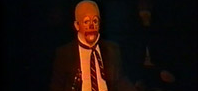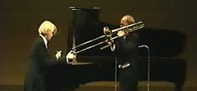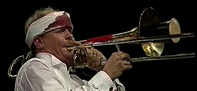 Lindberg unaccompaned Csardas by Monti Sandström Don Quixote
Win.media Quicktime Win.media Quicktime Win.media Quicktime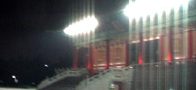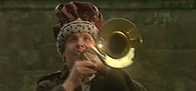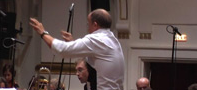 Lindberg in Taiwan Lindberg in Theatre Helikon Wasp in Krakow
Win.media Quicktime Win.media Quicktime Win.media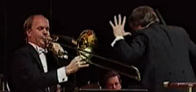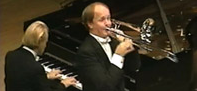 Lindberg plays Pärt Trombone and Piano
Win.media Quicktime Win.media Quicktime
---
Christian Lindberg writes for Chicago Symphony Orchestra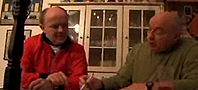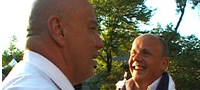 Jan 2006 first version World Premiere Sept 2006
Win.media Quicktime High Medium Youtube
---